As we expand, I am proposing the idea of a FusionFall wiki newsletter. A newsletter is like a newspaper. Newsletters are common on ALOT of wikis. I am personally proposing this because it cuts down on making so many blogs when a new wiki update is here. I am right now unsure what the newsletter should have in it. Of course we'll have updates on wiki events and such, but what about in-game stuff?
Does anyone like the idea of giving user the freedom to advertise a event they are having in-game? I also like the idea of a birthday shoutout inside the newsletter for anyone who is celebrating a birthday.
A few ideas of an already made newsletter can be seen here:
I tested a idea for the newsletter on the FanonFall wiki, here. Though I want to give more freedom to the users. So I'd like the users to write the newsletter. Experienced users can sign up to write sections of the newsletter. There can be an Editor in Chief like position given to the leader of the newsletter staff. Four Columnist, a handful of contributors and a graphics designer for making posters and logos.
A fully design and operational newsletter and what our newsletter might look like can be viewed here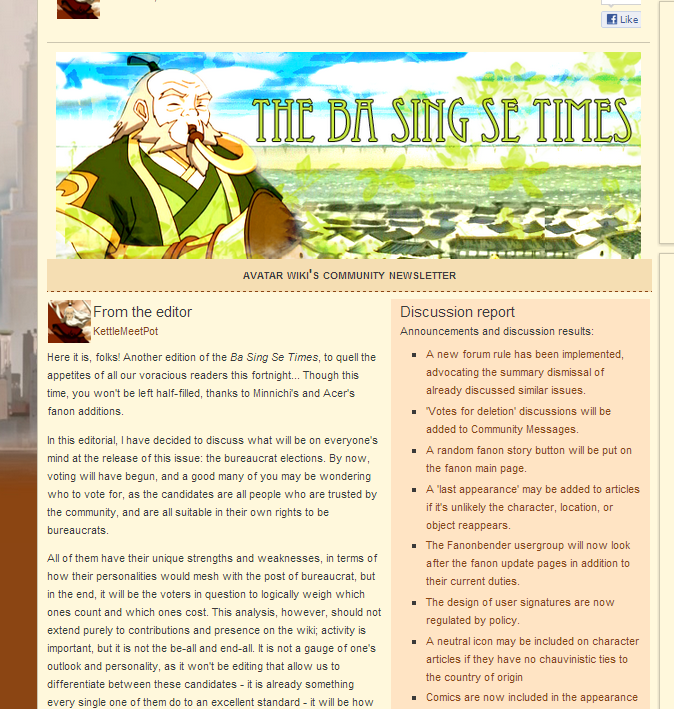 Though like I said, I don't want SO many blogs to be created just to inform users on community updates. The newsletter will be delivered to your Message Wall. Please note, that the newsletter is only delivered for users who sign up for it. So if you aren't signed up, don't be expecting a newsletter issue. For now, I am letting Anons Contributors sign up for the newsletter. I think we have been harsh to alot of anons due to past experience with them trolling the wiki. I want to see if we can get along with them. If they get outta control, the newsletter for anons could be disbanded.
This newsletter is only in prototype stage. Please feel free to add ideas on what the newsletter could be centered around, what can be in it, what users should be in charge of it, and do you like this idea. This is for the community to decide. Though I am an admin, I am simply proposing an idea for the community. If you don't want it, I will not force you to like it. Though, I do feel we need it. This community is too disjointed. Too many users are uninformed on things they should know. This newsletter could fix all of that. Comment below and let me know what you think about this idea.
| | |
| --- | --- |
| | Please stay civil. You should not harass other users or their views. |