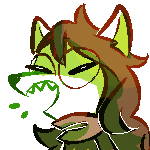 Hi, I'm Kemasc. You can call me Kem or Kat tho! Below is a little bio I cooked up concerning my time with FusionFall, MMOs, and the community surrounding it. Feel free to take a read!
Mini Biography
I first got into MMOs with Toontown back in 2003, and eventually, with the influence of my brothers, I got into more mainstream MMOs like World of Warcraft. Around 2009, I was tired of sharing my brother's account to play Wrath of the Lich King, and wanted to find a new MMO to play. I found Fusionfall from my extended time playing the flash games that Cartoon Network's site had in bulk (Big Fat Awesome House Party). From there I enjoyed playing the game immensely, but I was very young and very stupid.
I took a break from the original game (Classified as Retro now) after getting the Bloo Nano at lvl 14, instead filling my early teen years playing whatever the gamer stereotype for little kids was in the late 2000s (Team Fortress 2, Minecraft, etc), using Skype to communicate with online friends. In 2013, I came back to see if I could finally complete the game, and get to level 36. At that point, the game had experienced many updates (PBB), and I found myself having to adjust to all the new changes. Almost inevitably, I only got to level 31 before the game shut down in August 29th, 2013.
I spent at least every other month looking on google for any official attempts to revive the original FusionFall. I kept hope because WoW private servers were a thing, but being a loser in middle school definitely kept me busy.
In December of 2015, I had already settled in to Discord, switching off of Skype in May of 2015. I was doing my regular every other month search, when I saw Przzyfied's youtube channel had a link to a Discord server. From this point on, I familiarized myself with multiple people who shared a similar interest of my own, and one I had previously thought was only my interest. In doing so I learned about FusionFall Legacy and FusionFall Retro. These revival projects played a large part in inspiring me, and giving me hope to keep pursuing what I love. During this time I was improving my artistic capabilities, so most of my time was spent lurking in the background, but helping people where I could and making great friends.
By August of 2017, I became a community team member for the Fusionfall Universe Team, to help moderate the forums in any way I could. Through this I met a new handful of cool people and was in a way, helping bring FusionFall back.
Though I dedicated a handful of time to moderating, I was also going to summer camps and taking courses outside of school to improve my artistic abilities. I had always loved art, since I've had a memory of anything, but without sufficent practice or studying, my execution in digital and traditional art were both fairly shoddy. 2017 was probably the biggest improvement to my art from a fundamental standpoint, and in 2018, I applied to be an artist for the Legacy Development Team. This eventually opened the door to an opportunity to become a full developer, letting me impact the reimagining of FusionFall and work with a team of skilled individuals who wish to accomplish the same goal. WIth that, this is where I'm at now chief. Thanks for reading!
FusionFall Characters
✨Alpha Centauri✨
👗 
Gear Loadout:

Battle Beret

Cyber Goggles

Butterfly Wings
Seol Shirt (Girls)

Tech Flight Pants

Seol Shoes (Girls)
Val Hallen's Six-String

Infinity Cutlass
🌺 Nano Loadout:


   Numbuh Four | Health - Self Area
🌕Lunar Seastar🌕
(WIP 100% Character)
About Me
📺 Favorite TV Shows? 📺
The Life and Times of Juniper Lee
Boku No Hero Academia
Bojack Horseman
Ed, Edd, and Eddy
The Simpsons (S1 - S8)
Codename: Kids Next Door
💥 Favorite Comics? 💥
Dan Slott | Spiderman: The "Brand New Day" Run (2008)
Brian Michael Bendis | Ultimate Spiderman (2000-2011)
Brian Lee O' Malley | Scott Pilgrim vs The World
Kohei Horikoshi | Boku No Hero Academia
🎲 Favorite Singleplayer Games? 🎲
Portal
Psychonauts
Stardew Valley
A Hat in Time
Life is Strange
Firewatch
Celeste
Night in the Woods
Backyard Baseball
🎮 Favorite Multiplayer Games? 🎮
Hearthstone
Ultimate Chicken Horse
Tabletop Simulator
League of Legends
🌎 Favorite MMOs? 🌎
FusionFall
World of Warcraft
Maplestory 2
Runescape
Guild Wars 2
Basically all of them
🎶 Hobbies? 🎶
Music
Cooking
Completing Games 100%
Collecting Pop Culture Figurines.
Speedrunning
Community content is available under
CC-BY-SA
unless otherwise noted.