Not in FusionFall Retro.
The following article is about something that appeared after the Birthday Bash update in FusionFall, was removed prior to the build FusionFall Retro uses, or was otherwise excluded from FusionFall Retro by its developers. Thus, the content below will not appear in FusionFall Retro; this article only exists to archive part of the original game.
"
The Null Void isn't the most inviting place and it sure isn't easy to get to. In fact, until recently, it served as a sort of inter-dimensional prison. But this is what makes it a perfect place for the top secret Academy! Your training begins here!
"

–Training Guide - Basic Training[1]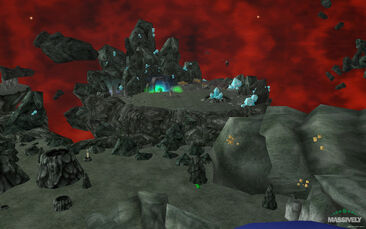 The
Null Void
is an alternative dimension originating from the show
Ben 10
, where it was a penal colony and prison space. In classic
FusionFall
, it served as a training ground for new players, a replacement for the removed
Future
zone.
As a penal colony, it should contain various intergalactic criminals, though none are present in FusionFall.
FusionFall
War Against Fuse
Training Cadets
The alternative dimension served as a place to send criminal aliens who cause trouble, which over the years have included Kevin, Vilgax, and now Fusion Finn and Fusion Spawns. Now that DexLabs, the Plumbers, and Providence have created a new training system, they have chosen the Null Void to be the first step in training new heroes to fight Lord Fuse. Ben and Grim have taken on the task to oversee the work of the new cadets in this area. In the Null Void, there is a visual of Rust Bucket 3 and some sleeping quarters for the cadets to sleep in and an old beaten up fighter, which is most likely a Plumber ship. After the hero completes all their tasks, Rex will be waiting to warp the hero to the Providence HQ or, as it is commonly known, the "Petting Zoo."
Characters/NPCs
Available Missions
Monster
Name
Fusion Spawn
Boss
Jumbo Fusion Spawn (Found at Petting Zoo)
Level
1
Type
Cosmix
Health
{{{Health}}}
Location
[[{{{Location}}}]]
Location 2
Description
Fusion Spawns are what every Fusion Monster (maybe even fusions) start out as. Fuse must of been feeling slack and neglected these Fusion Spawns and didn`t mind evolving them. Poor things!
Attacks
None
Fusion Lairs
References