Jurassic World: Dominion Dominates Fandom Wikis - The Loop
Play Sound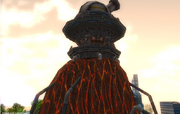 The primate super villain Mojo Jojo lives in his Volcano Lair (which in the Powerpuff Girls TV show is located in Townsville Park) where he plans and schemes his destructive ideas for destroying the Powerpuff Girls and other villianous acts. With his telescope, Mojo keeps an constant eye on Planet Fusion.
Fusion Spawns from Steam Alley stole the lens for the telescope in hopes of keeping the fact that Planetoid Fusion was heading to Earth a secret. Underneath Mojo's lair live a swarm of Monkey Minions who have been poisoned by Fusion Matter after eating fusion Bananas. Any infected minions that escape head for Fusion Mojo's lair, and become his minions. Fusion Edd and Mandark are trying to steal secret technology from Mojo lab to use for their own means. With help from Eddy, Mojo Jojo sent the Hero with a Fusion Plank to enter the Fusion's lair, and defeat him.
Albedo has recently set up a lair under the Volcano, to further his evil deeds. The Rath Fan Club is also located here.
There is a secret snail in the area covered under the glass. To know which descending elevator you should take, find Rath Fan Club 23. He is behind one of the elevators going under. The elevator that the player should take is the one close elevator in the left (left from RF23 position, which means the right side if you are in front of RF23). Once you go down throught this elevator, go right, find the snail behind a tree. This rewards Manly Minotaur Nose.
Monsters
Name
Wild Wing
Boss
Wild Wing King
Level
20
Type
Blastons
Health
1002 (small)

1546 (medium)

2633 (Boss)

Location
Mojo's Volcano
Location 2
Description
The Wild Wing answers to no one. For unknown reasons they seem attracted to Mojo's Volcano. With their robotic strength and powerful wings to escape danger, Mojo Jojo hasn't had any luck fighting them off.
Attacks
Corruption Attack

Eruption

Battery Drain
Name
Doom Digger
Boss
Doom Digger Dynamo
Level
20
Type
Adaptium
Health
1004 (small)

1546 (medium)

2650 (Boss)

Location
Mojo's Volcano
Location 2
Description
The twin drills on this tank can drive through steel. The cannons mounted on top help to clear away other obstacles, like kids who try and stop them!
Attacks
Corruption Attack

Eruption

Battery Drain
Name
Spawn Simian
Boss
Spawn Simian Captain
Level
18/20
Type
Cosmix
Health
1163 (small)

1793 (medium)

1654 (Level 18)

3061 (Boss)

Location
Mojo's Volcano
Location 2
Description
The Spawn Simians are Monkey Minions who were so horribly corrupted by Fusion Goo that they don't even remember what they used to be. They're strong and fast, especially in Fusion Mojo Jojo`s Lair in Bravo Beach!
Attacks
Corruption Attack

Eruption

Stun
Monkey Skyway Agent Destination
Fusion Portals:
Gallery
Other Areas