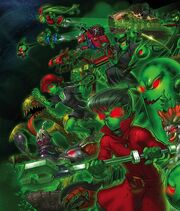 Fusions
are evil versions of the Cartoon Network characters in
FusionFall
, with green-tinted skin (caused by the Fusion Matter in their body) and glowing red eyes. They were created by
Lord Fuse
,
Planet Fusion
's leader, and modeled after the heroes and villains of
FusionFall
. They are usually the head of one of Fuse's nasty plans, in which they generally command
Fusion Monsters
 to do their bidding. Defeating them is required if one wishes to acquire a Nano, though not every Fusion creates a Nano.
Like Nanos, Fusions are created by means of special items that are dear to the character they are based on being combined with Fusion Matter. For example, the first Fusion ever created, Fusion Samurai Jack, was formed using a sandal stolen from Jack by Fusion Spawn. Reports say that certain Fusions have been created within The Darklands.
Fusions reside within Fusion Lairs, which are normally large caverns with a maze-like structure and Fusion growths within them; these Lairs have Fusion Monsters along the path with the Fusion itself residing at the end of the path. However, some Fusion Lairs, such as Fusion DeeDee's Lair, are large and open, with futuristic walls and spread apart enemies and the Fusion itself having its own separate platform or area in which it resides. Fusion Lairs are entered via Fusion Portals, which are green warp pads with Fusion Matter tentacles protruding out of them. Unlike Infected Zone warp pads, however, you can only enter a Fusion Lair during the specific mission that has you enter it.
Sometimes an NPC will be inside to pick up items players have found, give them information, or even fight alongside them. They will be a part of a player's group and will walk blindly in a set path, attacking any monster in their way or nearby. This only occurs with Eduardo, Billy, Professor Utonium, and Grim.
It is possible for a Fusion to give out a different Nano than their NPC counterpart:
Fusion 

Tetrax

 creates Humongousaur
Fusion Hominid creates Titan
Albedo

 creates Rath, being the only NPC fought to create a Nano.
​There can also be multiple copies of certain Fusions, and it is possible for copies of the same Fusion to give different Nanos:
The only time you don't have to fight a Fusion to create a Nano is during Unstable Nano (mission), where Dexter, who by using certain things that you collect for him, creates the Unstable Nano via the Nano Creation Machine.
List of Fusions
| Fusion | Lair | Location | Infected Zone | Nano Created | Mission | Level | Type | In Retro |
| --- | --- | --- | --- | --- | --- | --- | --- | --- |
| | Epic Lair | | | None | | 13 | Blastons | Yes |
| AmpFibian | Fusion Lab | | None | AmpFibian | | 08 | Blastons | |
| Ben | Secret Lair | Offworld Plaza | Skypad Space Port | None | Bet on Ben (Part 5 of 5) | 24 | Adaptium | Yes |
| Ben | Containment unit | Providence HQ | None | Alien X | Advanced Training (Part 4 of 6) | 02 | Blastons | |
| Ben and Gwen | Lair | Offworld Plaza | Skypad Space Port | Swampfire | Alien Abductions | 24 | Cosmix and Blastons | Yes |
| Big Cheese | Foster's Interior | Foster's Home | None | Cheese | Sorted Cheeses | 10 | Cosmix | |
| Billy | Lair | Eternal Meadows | The Boneyard | Billy | Carnival Collection | 10 | Blastons | Yes |
| Billy | Secret Lair | City Point | Dizzy World | None | Water You Kidding? (Part 4 of 4) | 13 | Cosmix | Yes |
| Bloo | Lair | City Point | Dizzy World | Bloo | Leaderbored | 13 | Cosmix | Yes |
| Bloo | Secret Lair | Foster's Home | None | None | Imaginary Fusions (Part 5 of 5) | 12 | Blastons | Yes |
| Blossom | Lair | Pokey Oaks North | Pokey Oaks Junior High | Blossom | Lame Imitation | 05 | Adaptium | Yes |
| Blossom | Secret Lair | Peach Creek Estates | Delightful Developments | None | Edd's Thingamajig (Part 3 of 3) | 08 | Cosmix | Yes |
| Bubbles | Lair | Mount Blackhead | Jungle Training Area | Bubbles | Squirrel Squad | 14 | Blastons | Yes |
| Bubbles | Lair | Bravo Beach | None | Johnny Bravo | These Are A Few Of His Favorite Things | 18 | Cosmix | Yes |
| Bubbles | Secret Lair | Pokey Oaks North | Pokey Oaks Junior High | None | Of Fathers and Fusions (Part 3 of 3) | 08 | Adaptium | Yes |
| Buttercup | Epic Lair | Marquee Row | Sunny Bridges Auditorium | None | How To Date A Fusion (Part 5 of 5) | 14 | Cosmix | Yes |
| Buttercup | Lair | Marquee Row | None | Buttercup | A Personal Matter | 14 | Cosmix | |
| Buttercup | Lair | Tech Square (The Future) | Infected Zone (Tutorial) | Buttercup | A Fusion Matter | 00 | Cosmix | Yes |
| Cheese | Secret Lair | Hero's Hollow | None | None | Chocolate Milk (Part 4 of 4) | 33 | Adaptium | Yes |
| Chowder | Lair | Pokey Oaks North | None | Chowder | Cloffee Caper | 05 | Blastons | |
| Chowder | Lair | Pokey Oaks North | None | None | Schmingerbread Scrooge | 04 | Adaptium | Yes |
| Chowder | Orifice | Chowder's Mouth | None | None | A Nefarious Source | 12 | Adaptium | |
| Coco | Lair | Really Twisted Forest | The Canopy | Coco | Bird Beast | 25 | Cosmix | Yes |
| Coop | Lair | Goat's Junk Yard | Megas' Last Stand | Megas | Scrapheap Scrap | 09 | Cosmix | Yes |
| Coop | Secret Lair | Green Maw | Green Gullet | None | Fusion Assembly Line (Part 5 of 5) | 35 | Blastons | Yes |
| Courage | Lair | Firepits | Inferno Fields | Courage | Ring Around the Collar | 32 | Adaptium | Yes |
| Courage | Secret Lair | Firepits | Inferno Fields | None | Critical Mission (Part 2 of 2) | 30 | Blastons | Yes |
| Dee Dee | Lair | Genius Grove | Mandark's House | Dee Dee | Lab Accidents | 06 | Blastons | Yes |
| Dee Dee | Secret Lair | Tech Square | None | None | Mandark's Fusion Crush (Part 3 of 3) | 22 | Blastons | Yes |
| Demongo | Lair | Dark Glade | Dark Tree Clearing | Aku | Demon Attack | 34 | Cosmix | Yes |
| Demongo | Fuse's Labriynth | Fuse's Lair | None | None | Fuse No More (Part 3 of 4) | 36 | Cosmix | Yes |
| Dexter & Computress | Fusion Tunnel to Lab | Genius Grove | Mandark's House | None | Double Fusion Trouble (Part 5 of 5) | 12 | Cosmix | Yes |
| Dexter & Computress | Lair | Galaxy Gardens | Tyrannical Gardens | Dexter | Lab Monkeys | 21 | Cosmix and Adaptium | Yes |
| Echo Echo | Fusion Lab | Genius Grove | None | None | Defender Amp Fuse | 07 | Adaptium | |
| Ed | Lair | Firepits | Inferno Fields | Ed | Royal Ed-Viser | 31 | Cosmix | Yes |
| Edd | Lair | Peach Creek Estates | Delightful Developments | Edd | Mistaken Eddentity | 08 | Adaptium | Yes |
| Edd | Secret Lair | Galaxy Gardens | Tyrannical Gardens | None | Making Friends with Mojo (Part 4 of 4) | 21 | Cosmix | Yes |
| Eddy | Lair | Pokey Oaks North | None | Eddy | Get Reddy (Academy) | 05 | Cosmix | |
| Eddy | Lair | | Pokey Oaks Junior High (The Future) | Eddy | Get Reddy (Future) | 02 | Cosmix | Yes |
| Eddy | Secret Lair | Eternal Vistas | None | None | Billy's Baloney (Part 3 of 3) | 09 | Cosmix | Yes |
| Ed, Edd 'n Eddy | Lair of the Fusion Eds | Green Maw | Green Gullet | None | Wielding the Master Weapon (Part 3 of 3) | 36 | Cosmix, Adaptium 'n Cosmix | Yes |
| Eduardo | Lair | Peach Creek Estates | None | Eduardo | Scary Monsters (Academy) | 10 | Adaptium | |
| Eduardo | Lair | Peach Creek Estates (The Future) | Delightful Developments (The Future) | Eduardo | Scary Monsters (Future) | 03 | Adaptium | Yes |
| Eduardo | Secret Lair | Orchid Bay | None | None | Fusion by the Sea (Part 3 of 3) | 17 | Adaptium | Yes |
| Father | Secret Lair | Habitat Homes | Charles Darwin Middle School | None | Beautification Mutation (Part 6 of 6) | 12 | Adaptium | Yes |
| Finn | Containment Area | Null Void | None | Finn | Basic Training (Part 3 of 3) | 01 | Blastons | |
| Finn | Lair | Orchid Bay | None | Jake | Double Take | 18 | Adaptium | |
| Flapjack | Lair | Leakey Lake | Loch Mess | Flapjack | Cap'n Courageous | 16 | Cosmix | |
| Frankie | Secret Lair | Peach Creek Estates | Delightful Developments | None | The Fraudulent Frankie (Part 5 of 5) | 10 | Cosmix | Yes |
| Fuzzy Lumkins | Secret Lair | Nuclear Plant | Reactor Works | None | New Creep in Town (Part 3 of 3) | 11 | Blastons | Yes |
| Grandpa Max | Lair | Townsville Park | The Fissure | Fourarms | Plant Problems | 16 | Cosmix | Yes |
| Grandpa Max | Secret Lair | Tech Square | None | None | Stealing Secrets (Part 5 of 5) | 22 | Blastons | Yes |
| Grim | Lair | The Ruins | Hani-Baba Temple | Grim | Things Look Grim | 20 | Cosmix | Yes |
| Grim | Secret Lair | Pimpleback Mountains | Crystalline Caverns | None | Don't Fear the Reaper (Part 4 of 4) | 20 | Adaptium | Yes |
| Gunter | Lair | Orchid Bay | None | Ice King | Penguin Plans | 18 | Cosmix | |
| Gwen | Secret Lair | Area 51.5 | Nowhere Triangle | None | The Power of Prophecy (Part 4 of 4) | 23 | Blastons | Yes |
| Hex | Lair | Dinosaur Pass | Dinosaur Boneyard | Hex | Charmed Life | 28 | Cosmix | Yes |
| Hex | Secret Lair | The Ruins | Hani-Baba Temple | None | Fusion Among the Ruins (Part 3 of 3) | 20 | Cosmix | Yes |
| Him | Lair | Habitat Homes | Charles Darwin Middle School | Him | Doppelganger Gang | 12 | Blastons | Yes |
| Him | Secret Lair | Eternal Meadows | The Boneyard | None | One Spooky Fusion (Part 4 of 4) | 09 | Blastons | Yes |
| Hominid | Lair | Habitat Homes | Charles Darwin Middle School | Titan | Origin of the Spacies | 12 | Adaptium | |
| Hoss Delgado | Secret Lair | Steam Alley | None | None | Dark Engine Days (Part 4 of 4) | 23 | Cosmix | Yes |
| Johnny Test | Lair | Nuclear Plant | Reactor Works | Johnny Test | Scooter Scramble | 11 | Blastons | |
| Juniper Lee | Lair | Monkey Mountain | Monkey Summit | Juniper Lee | Alien Totem Poll | 29 | Blastons | Yes |
| Juniper Lee | Secret Lair | Lower Catacombs | None | None | Avoid the Planetoid (Part 4 of 4) | 26 | Blastons | Yes |
| Kevin | Secret Lair | Green Maw | None | None | Fuse No More (Part 1 of 4) | 35 | Cosmix | Yes |
| Kimchi | Orifice | Chowder's Mouth | None | None | A Nefarious Source | 12 | Blastons | |
| Lee Kanker | Fusion Control Center 3 | Hero's Hollow | None | None | Control Center Assault (Part 3 of 4) | 33 | Cosmix | Yes |
| Mac | Lair | Forgotten Falls | None | Mac | Pack Attack | 26 | Cosmix | Yes |
| Mac | Secret Lair | Twisted Forest | None | None | Mystery of the Meteor (Part 6 of 6) | 19 | Adaptium | Yes |
| Mandark | Fusion Control Center | Dark Glade | Dark Tree Clearing | None | Control Center Assault (Part 2 of 4) | 32 | Cosmix | Yes |
| Mandark | Lair | Morbucks Towers | Construction Site | Mandark | Leet Cheats | 19 | Blastons | Yes |
| Mandy | Lair | Really Twisted Forest | The Canopy | Mandy | Hands Off | 24 | Cosmix | Yes |
| Mandy | Secret Lair | Bravo Beach | Sand Castle | None | A Fusion In Our Midst (Part 4 of 4) | 18 | Adaptium | Yes |
| Marie Kanker | Fusion Control Center | Hero's Hollow | None | None | Control Center Assault (Part 3 of 4) | 33 | Cosmix | Yes |
| May Kanker | Fusion Control Center | Hero's Hollow | None | None | Control Center Assault (Part 3 of 4) | 33 | Cosmix | Yes |
| Mayor | Secret Lair | Pokey Oaks North | Pokey Oaks Junior High | None | The Littlest Fusion (Part 3 of 3) | 06 | Blastons | Yes |
| Mojo Jojo | Lair | Bravo Beach | Sand Castle | Mojo Jojo | Going Bananas | 18 | Adaptium | Yes |
| Mojo Jojo and Coco | Secret Lair | Monkey Mountain | Monkey Summit | None | Fusion on the Mountain (Part 3 of 3) | 27 | Cosmix and Cosmix | Yes |
| Mr. Herriman | Fusion Control Center | The Precipice | None | None | Control Center Assault (Part 4 of 4) | 34 | Blastons | Yes |
| Numbuh One | Lair | Pimpleback Mountains | Crystalline Caverns | Numbuh One | Skunk Support | 17 | Adaptium | Yes |
| Numbuh One | Secret Lair | Steam Alley | None | None | Nano Corruption Commotion (Part 5 of 6) | 20 | Adaptium | Yes |
| Numbuh Two | Lair | Sector V | None | Numbuh Two | Sector Defense | 04 | Adaptium | |
| Numbuh Two | Lair | Sector V (The Future) | KND Training Area | Numbuh Two | Practice Pranks | 02 | Adaptium | Yes |
| Numbuh Two | Secret Lair | Candy Cove | Sweet Revenge | None | Eduardo and the Pirates (Part 4 of 4) | 10 | Blastons | Yes |
| Numbuh Three | Lair | Monkey Mountain | Monkey Summit | Numbuh Three | My Monkeys! | 27 | Adaptium | Yes |
| Numbuh Three | Secret Lair | Habitat Homes | Charles Darwin Middle School | None | The Darwin Rewards (Part 2 of 2) | 12 | Adaptium | Yes |
| Numbuh Four | Lair | Dinosaur Pass | Dinosaur Boneyard | Numbuh Four | Tree Trouble | 30 | Blastons | Yes |
| Numbuh Four | Secret Lair | Really Twisted Forest | None | None | Don't Go, Coco (Part 4 of 4) | 24 | Blastons | Yes |
| Numbuh Five | Lair | Candy Cove | Sweet Revenge | Numbuh Five | Creature Discomfort | 07 | Blastons | Yes |
| Numbuh Five | Secret Lair | Foster's Home | None | None | Imaginary Reinforcements (Part 4 of 4) | 10 | Blastons | Yes |
| Princess | Secret Lair | Peach Creek Commons | None | None | Extra Fizzy Flying Fusion (Part 4 of 4) | 07 | Blastons | Yes |
| Professor Utonium | Lair | Nuclear Plant | Reactor Works | Professor Utonium | Mutation Abomination | 11 | Adaptium | Yes |
| Professor Utonium | Secret Lair | Nuclear Plant | Reactor Works | None | Nuclear Bore (Part 2 of 2) | 11 | Cosmix | Yes |
| Rex | Containment Area | Providence HQ | None | Rex | Advanced Training (Part 3 of 6) | 02 | Blastons | |
| Samurai Jack | Fusion Control Center | Huntor's Crest | None | None | Control Center Assault (Part 1 of 4) | 31 | Cosmix | Yes |
| Samurai Jack | Heart of the Dark Tree | Dark Glade | Dark Tree Clearing | Samurai Jack | Plant a Seed | 33 | Cosmix | Yes |
| Stickybeard | Secret Lair | Area 51.5 | Nowhere Triangle | None | Fusion Pirate's Pillage (Part 5 of 5) | 24 | Cosmix | Yes |
| Tetrax | Lair | Green Maw | Green Gullet | Humongousaur | Prehistoric Plot | 35 | Cosmix | Yes |
| The Scotsman | Lair | Leakey Lake | Loch Mess | Demongo | Go, Demongo, Go | 15 | Blastons | Yes |
| The Scotsman | Secret Lair | Leakey Lake | Loch Mess | None | Scotsman's Best Friend (Part 3 of 3) | 16 | Cosmix | Yes |
| Toiletnator | Secret Lair | Really Twisted Forest | The Canopy | None | One Stinky Fusion (Part 3 of 3) | 26 | Adaptium | Yes |
| Vilgax | Lair | Area 51.5 | Nowhere Triangle | Vilgax | Souls For Sale | 24 | Adaptium | Yes |
| Vilgax | Secret Lair | Townsville Park | The Fissure | None | Fusion from Another Planet (Part 5 of 5) | 16 | Cosmix | Yes |
| Wilt | Lair | Pokey Oaks North | Pokey Oaks Junior High | Wilt | Fizzy Rox And Roll | 05 | Adaptium | Yes |
| Wilt | Secret Lair | Goat's Junk Yard | Megas' Last Stand | None | Xtra Large Fusion (Part 2 of 2) | 10 | Adaptium | Yes |
| Zak Saturday | Lair | Twisted Forest | None | Zak Saturday | Bad Behavior | 19 | Cosmix | |
Lairs containing other enemies
| Enemy | Lair | Location | Infected Zone | Mission | In Retro |
| --- | --- | --- | --- | --- | --- |
| Kevin | Foster's Home | Foster's Home | None | Kevin Help Us (Part 3 of 3) | Yes |
| Albedo | Albedo's Lair | Mojo's Volcano | None | Let Me Tell You About Rath! | |
| Vilgax | Fusion Juniper's Secret Lair | Upper Catacombs | None | Avoid the Planetoid (Part 4 of 4) | Yes |
| Vilgax, Mojo Jojo and Mandark | Ammunition Depot | Offworld Plaza | Skypad Space Port | | Yes |
| Cheese Fusions | Foster's Interior | Foster's Home | None | Sorted Cheeses | |
| Rudy | None | Camp Kidney | None | None | |
| Cootie | None | Bravo Beach | None | None | |
| Judy | None | Nowhere | None | None | |
| Tootie | None | Monkey Foothills | None | None | |
| Hootie | Blowfish Lair | Peach Creek Estates or Peach Creek Estates (The Future) | None | A Thanksgiving Delicacy (Part 2 of 2) | |
| Fusion Mega Echo Echo | None | Genius Grove | None | None | |
| Fusion Mini Echo Echo | None | Genius Grove | None | None | |
| Don Doom | None | Pokey Oaks North/Pokey Oaks South or Pokey Oaks North (The Future)/Pokey Oaks South (The Future) | None | None | Yes |
| Bad Max | None | Peach Creek Estates | None | None | Yes |
| Lord Fuse | Fuse's Throne | Fuse's Lair | None | Fuse No More (Part 4 of 4) | Yes |
Fusion Gallery
Fusions
Blowfish-like Fusions
Distinctive Mutations
In addition to altered names, some Fusions also have distinctive mutations:
Trivia