Not sure where to start?
The Community Portal is a great place to learn about the wiki. It contains information for newcomers and regular members alike:
Info on getting started and editing the wiki, with video demos.
How to customize your User page.
See what's missing on pages.
How to maintain pages and make sure they have a consistent look.
Reference materials on templates, categories and more.
Blogs and newsletter articles.
Disclaimer
This wiki is filled with spoilers about events, characters, items, and elements in the game. In no way is this wiki intended to be a substitute for actually playing the game, since the experience is always better than reading about it.

Images
As all the content is owned by Cartoon Network, images must be only in .png (lower case) format. For Windows users, press the button "Prt Scr" to save an image of the screen, then paste the image into Microsoft Paint or a similar program. After cropping the image down to the game screen (or relevant item on it), save it in the format mentioned. For Mac users, press Shift+Apple+3 or Shift+Command+3 and the screen will be saved as an image file on your desktop, and can be cropped as necessary. If users wish to add item images, please ensure that the item can be equipped or used, which is denoted by a blue background. Items with a red background cannot be used or equipped. All help is GREATLY appreciated.

Virus Disclaimer
The FusionFall wiki Staff are not responsible for any pop-ups saying you have some viruses. Please scan your computer for any actual viruses that may have infected your computer. If you don't, the pop-up is fake. Then report it to the Wikia Staff, not the FusionFall Staff. The FusionFall Staff cannot help you with FusionFall Wiki problems.

Sponsors/reliable sources
<wikiaforum class="REMAKE"/>
Melee
edited by Vman1110 16 hours ago

| | |
| --- | --- |
| Summary: | Edited Super Slayer Slasher to remove pistol detail, as it cannot attack from long range. |

Pistols
edited by Vman1110 16 hours ago

| | |
| --- | --- |
| Summary: | Removed Super Slayer Slasher as it is not a pistol, it is a melee weapon. |

Beta Elements
edited by Vman1110 17 hours ago

| | |
| --- | --- |
| Summary: | Added pic and added info |

Beta Elements
edited by Vman1110 21 hours ago
Beta Elements
edited by Vman1110 2 days ago
Beta Elements
edited by Vman1110 2 days ago

| | |
| --- | --- |
| Summary: | Corrected link and grammar |

Beta Elements
edited by SuperCartoonBrony2000 2 days ago

| | |
| --- | --- |
| Edited the section: | Fusions |

Battle Cry

Is something missing? Is there a mistake? Don't be shy.
Click the edit button and
you can add to any page!

earned the Battle Cry badge
Awarded for making 100 edits on articles!

Beta Elements
edited by Vman1110 2 days ago
Beta Elements
edited by Vman1110 4 days ago

| | |
| --- | --- |
| Summary: | Added info and pic, corrected grammar error |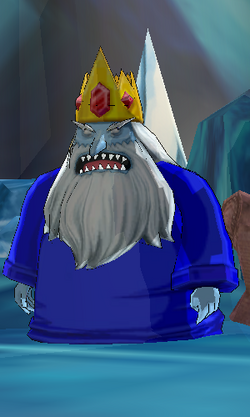 • Around the time of or before the Great Mushroom War, an antiquarian named Simon Petrikov purchased a crown from a fisherman. Under the crown's influence over time, his mind deteriorated until he became senile and crazy. He became the Ice King of the modern era.
• During the Christmas 2019 event, Ice King set up a holiday home in Pokey Oaks South. His ice castle was taken over by a Fusion Monster and he was able to escape with his penguins.
• While the player is busy with the monsters, he holds a barbecue with the neighbours and chastises the player for not attending despite sending them on a mission.
A recent Retro update added new Nanos! Which one is your favorite?
Which "mysterious" area in FusionFall is your favorite?
Community content is available under
CC-BY-SA
unless otherwise noted.