Not in FusionFall Retro.
The following article is about something that appeared after the Birthday Bash update in FusionFall, was removed prior to the build FusionFall Retro uses, or was otherwise excluded/removed from FusionFall Retro by its developers. Thus, the content below does not appear in FusionFall Retro; this article only exists for archival purposes.
Soloman "Doc" Saturday is the father of Zak Saturday, brother-in-law of Doyle Blackwell, adoptive father of Zon, Fiskerton, and Komodo, and the husband of Drew Saturday. He is a Secret Scientist who has spent most of his life studying cryptids.
FusionFall
War Against Fuse
The Future
In
the future
, Doc seems to have survived until this point. He is at
Birthday Bash
celebrating with other heroes.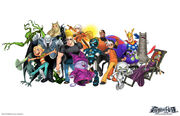 The Past
Doc has arrived in the FusionFall world with his family to help out with the war effiorts.
Birthday Bash Celebration
"
Well hello there. Have you met my wife, Drew?
"

–Doc Saturday, greeting the hero at Birthday Bash
Doc can be seen at Birthday Bash celebrating with fellow heroes. He has only been seen during the Birthday Bash along with his wife, son and adoptive children. Though he appears nowhere past this point he is alive in the future. It may mean that he left for awhile and came back to help fight Fuse. But, due to the alter in the timeline, caused by the creation of the Academy, the future no longer exists.
Game Changes
He was added during the Birthday Bash event. After the Birthday Bash event, he was removed from the game like other new NPC`s in the game. He is the only member of the Saturday family who didn't reappear in the past.
Gallery
Community content is available under
CC-BY-SA
unless otherwise noted.