"
The time is now. The hero is you.
"

– Tagline for FusionFall[1]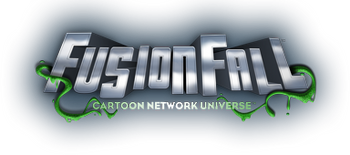 Cartoon Network Universe: FusionFall, or simply FusionFall, was an MMORPG platform adventure game developed by Grigon Entertainment and published by Cartoon Network. The game used the Unity engine as its client technology basis, and was one of the first major releases utilizing this technology. Furthermore, it had an E 10+ ESRB rating for cartoon violence and comic mischief.
Gameplay
Below are two excerpts from the original FusionFall website[2] that describe the game's gameplay and features. The official game guide for FusionFall can be found archived here, and available for download here . The system requirements for FusionFall can be found here.
"
Game Details/Frequently Asked Questions/1. What is FusionFall?

FusionFall is a Multiplayer Online Game that takes all of the best Cartoon Network characters and re-imagines them in an anime-inspired style, then sets them in dynamic new environments. Players create their own in-game avatar and fight alongside their favorite toons from the network's hit shows to save the world from an epic alien invasion. Players also can collect small, super-deformed versions of Cartoon Network characters along the way that provide powers and abilities to assist during missions.

It's a mix of all the action of a 3-D console platform game and all the customization, character development and open-ended world exploration of an MMORPG (massively multi-player online role-playing game).

"
"
Game Details/Frequently Asked Qustions/#. What makes FusionFall different from other MMOG's?

What sets FusionFall apart from other massively multiplayer online games (MMOGs) is that it has game play elements over and above the traditional "quest, battle, level, repeat" model.

Many in-game missions incorporate platforming as a vital design component. In this, players can test out their reflexes and puzzle-solving abilities by having their characters jump across floating, moving pieces of the landscape to travel through challenging "infected zones" in the game.

The collection component of FusionFall goes far beyond merely gathering items and rewards. Nanos - small, miniature versions of popular Cartoon Network characters - are key to a player's success in the game. Nanos boost player characters' abilities by giving them special power-ups. As players collect Nanos, they have to think strategically, equipping them in different combinations to achieve goals and optimize their skills.

While FusionFall is an MMOG, it also has strong roots in casual gaming. Other MMOGs require players to spend hours at a time in a game to advance and level up their characters, but FusionFallis different. It's designed to be enjoyable for players who have a limited time in which to play. While you certainly can spend hours exploring this universe, you can also have a fun, action-packed experience in only 20 minutes of gameplay.

Additionally, FusionFall is grounded in a re-imagined version of the Cartoon Network Universe, offering players a unique experience that is familiar yet still filled with new adventure, characters, settings and experiences.

"
Story
Main Article(s): Cartoon Network Universe, Story
FusionFall revolved around an alien invasion of the Cartoon Network universe. Cartoon Network's most iconic characters teamed up to repel Lord Fuse, an intergalactic conquer, and his army of Fusions. Players joined the resistance and were able to battle against the invaders with the use of unique weapons and Nanos, which were collectible, miniaturized versions of Cartoon Network characters with specialized abilities.
Although the tutorial at the beginning of the game puts the player on a linear path when the first begin, the main game is open in terms of where the character can go and what they can do. Missions often involved dealing with the Planet Fusion threat, while others were more personal to the NPCs. A promotional manga was released showcasing the arrival of Planet Fusion, and explaining how the fuse conflict began.
Development
FusionFall was created as part of Cartoon Network's growth initiative to expand their business online[3], and originally went by the name Cartoon Network MMOG, as shown in an early trailer.  First announced in mid-2007 at San Diego Comic-Con[4], FusionFall was set for release in Summer 2008, but was delayed until January 14, 2009[5]. Initially, the game required a paid subscription to play. However, the game became free-to-play on April 19th, 2010.[6] The game featured elements and characters from many Cartoon Network original series, redesigned in an anime style by Midori Foo. After five years of operation, the game closed down on August 29, 2013.
FusionFall started development around April 2006, but the project was trying to get green lit for about four years before this. Various U.S. companies were met with for the creation of the game, but eventually Grigon Entertainment was chosen. As Chris Waldron describes, this was because of the variety of games produced in Korea in contrast to the West, and the style of media Grigon had. [7] When it came to the character designs, some of the characters were made older to be more in line with the demographics of the game.[8]
Beta Testing
Main Article(s): Cartoon Network Universe: FusionFall/Beta Elements
FusionFall had multiple 'sneak peek' weekends up to its release where players briefly got to experience the game.[9][10] A beta test for FusionFall was ran on December 28, 2008[11][12][13], with the full game launching a few weeks later.
Subscription
Main Article(s): Subscription
FusionFall originally had a paid subscription of $10 US a month[14] when it was first released. However, on April 19th, 2010 the game was made completely free, giving all players the ability to access all missions, Nanos, items, and locations.
End of Service
"
For years, you've worked with the stars of the Cartoon Network Universe to stop the tyranny of Lord Fuse and his minions. Thanks to you, this corner of the world is safe again!

On Thursday, August 29, FusionFall will close for the last time, and we're going out in style! Join us for one last FusionFall Free-for-All, starting Friday, August 23. Your wildest dreams will come true, as you'll be granted nearly unlimited funds and elevated to level 36!

The Cartoon Network Games team would like to thank you for the years of gaming fun we've had together. Although this battle is over, the war continues in FusionFall Heroes. Please join us there, and stick around for more awesome Cartoon Network Games in the future![15]

"
On August 23rd, 2013, Cartoon Network announced that the game's availability would end on the 29th of August, 2013. During the final week, all players were given infinite funds and maxed-out levels.
Reception
The game has a 75% on Metacritic, 7/10 on MMORPG.com, and 4/5 on Common Sense Media. IGN gave the game a 7/10, stating that while the game isn't as high-tier as other MMOs released at the time (namely World of Warcraft and Warhammer Online), its mechanics made it streamlined and more accessible for younger audiences.[16] The game also received a 7 from MMORPG.com.[17]
Gallery
Main Article: Cartoon Network Universe: FusionFall/Gallery
Images
Videos
Main Article: Cartoon Network Universe: FusionFall/Gallery#Videos
Music
Main Article: Cartoon Network Universe: FusionFall/Music
The music for FusionFall is composed by Seth Podowitz. Some of the music was released for download on the official website, but said downloads are no longer available due to the game's shutdown. A full playlist of the music tracks used in FusionFall can be found here.
Other
Trivia
Although the original FusionFall website has since been taken down the website can still be visited via the Wayback Machine website. However, certain features on the website will not work, and some sections cannot be viewed.
Not much merchandise was created for the franchise. The most significant of it was distributed during the 2007 Comic Con, which included a shirt, a mousepad, the FusionFall: Worlds Collide manga, a bouncy ball based on a Fusion Spawn, a messenger bag, and other items.
According to a tweet by George Krstic, one of the writers for FusionFall: Worlds Collide, during the development of FusionFall, there were early talks about creating a feature film based on the IP.
FusionFall appeared in the pilot episode of the Cartoon Network live-action series Tower Prep under the title of "Adventure Quest", and had a different UI from the actual game.

See also
References